The Carbon County Railroad of Pa. Freight Train
The Carbon Model Railroad Society has been producing freight cars for some of the larger boroughs in Carbon County. There were seven cars produced each painted and decorated with the borough colors. In 2001 a caboose was made decorated with the Carbon County colors of green with the seal and lettering in yellow. This year we made a matching F7-A engine. Both the caboose and the engine have a matching year. Everything is made of Athearn products.
Some of our customers have a complete set. Some started with us and dropped out others came in later and are looking for some of the cars. Some customers just bought the car for their hometown and some bought them because they were Athearn. They make great gifts and/of collectibles. The cars are not models of any cars that existed but were designed more towards celebrating local history and pride.
The cars listed below are HO Scale and come with a numbered certificate. They were a limited production of 500. The following is a list of the cars that remain in our inventory and are available for sale.
Palmerton Zinc Box Car
In 1998 the borough of Palmerton celebrated its 100th Anniversary. We produced a limited amount of boxcars in the borough colors of blue and white to help celebrate the event. This car does not have a certificate and was an extra car for the set.
$15.00 each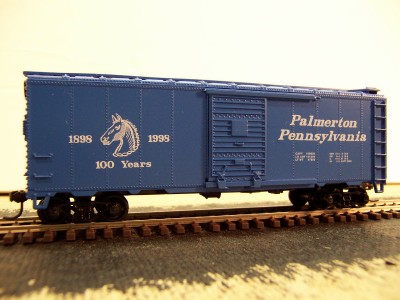 Palmerton 2012 Incorporation Centennial Box Car
In 2012 the borough of Palmerton is celebrating the 100th Anniversary of the Incorporation of the Borough. We are producing 500 box cars to help celebrate theevent. The cars are factory painted by Athearn. The cars are decorated with the official banner of the celebration and the Boroughs most important dates as part of the artwork.
$25.00 each

To order your car(s), send a note with the "cars" you want and include a check or money order; payable to: The Carbon Model Railroad Society or CMRS.
Mail them to:
CMRS C/O 335 Boulder Oak Dr. Palmerton, Pa. 18071
Shipping and handling costs are: $4.00 for 1 car and $2.00 for each additional "car".
Once you have bought a car from us you will stay on our mailing list until we don't hear from you for a couple of years and assumed you lost interest.