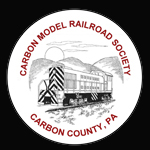 Membership Categories:
Social-$20.00
A non-voting member who supports the CMRS and its goals.
Regular-$25.00/year
A voting participant who is active in CMRS functions such as meetings, shows and train meets.
Family-$35.00/year
A regular member and their immediate family.
All members will receive a CMRS newsletter periodically.
If you are interested in becoming a member, call or email us:
Phone: 610-826-6636 (Call between 6:00-9:00 PM) Email:  [email protected]
The Carbon Model Railroad Society officers are as follows:
President- Garry A. Mack
Vice President – Bill Stoltz
Co-Secretary – Maryann Ziegenfuss
Treasurer – Lloyd Ziegenfuss
Co-Secretary – Jan Mack
Director – Larry Engle
Director – Sheldon Endy
Don't forget, you will find us at 529 Ore Street in Bowmanstown from 7-9 PM on Thursday evenings.